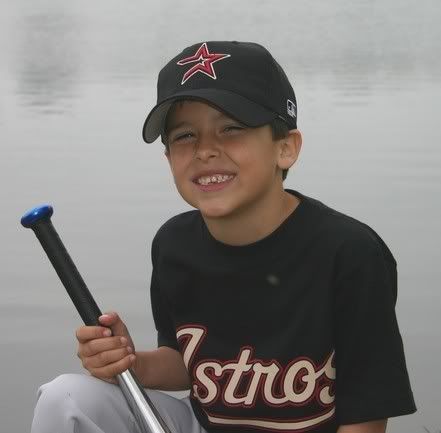 (This is a REPOST- with some additional comments - from my Old Blog.) :-)
Today is my little man's birthday. He is SEVEN! (Seriously, where does the time go????) Here are the seven BEST things about my Jedi...
1. His smile. Jacob has always had a smile that could light up a room. He still does..
2. His laugh. Jake has a kind of dry sense of humor, and loves to share it! From the time he was a baby, his laugh has been contagious. It still is...
3. His heart. This child has one of the most loving and compassionate hearts I've ever seen. He has a keen sense of justice, not for himself so much as for others. He's a champion of those he feels have been wronged, and doesn't hesitate to come to their defense. I hope that never changes...
4. His mind. Jacob is a very deep thinker. At times, one of the greatest theologians and philosophers I've ever known. He's constantly challenging his Dad and me with his perspectives on things. So pure, so insightful... So Jake!
5. His eyes. My most emotional child (by far...) you can read his moods and feelings just by looking straight into those beautiful brown peepers. His not good at hiding his emotions. And because he's that much like his Mama, I don't think he ever will be...
6. His feet. Talk about your Happy Feet!! The boy can cut a rug like NO OTHER. He's been a "break dance master" since he was about three, and to my knowledge, he'd never actually SEEN anyone do it! He loves to rock out with his dad, and bee-bop with his mom. He loves music, and he's a genius with lyrics. I'm not sure, but I think this may make him famous someday...
7. He's mine! I'm totally in awe of the fact that I get to mother this young man (not to mention his very special siblings!!). He is kind, he is thoughtful. He's imaginative, and intuitive. He's passionate, he's brave. HE's MINE and HE ALWAYS WILL BE!!!
Thank you, Jesus for the honor of being Jacob's mom. Help me to love him, and teach him, and guide him each day into Your ways, and the paths You have set before him. He is such a blessing, Lord... and I pray that You will bless him on this special day, and every single day of his precious life!
*****************************
Jacob is 14 today.... which means he is still ALL of these things... TIMES TWO!!
I would add now, His Fingers.... because this "Sweet Child of Mine" can rock out on his guitar like a BEAST!!! ;-)
I LOVE YOU, JACOB DEWITT!!!
HAPPY, HAPPY, HAPPY BIRTHDAY!!